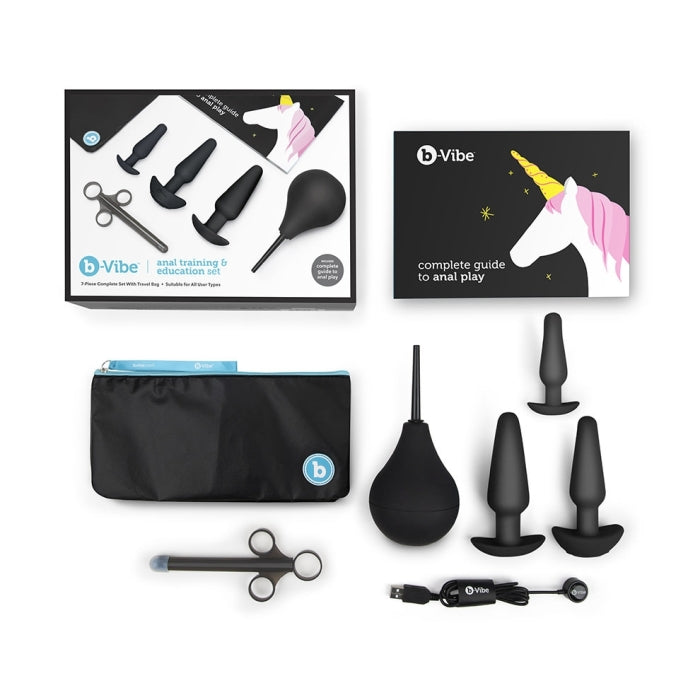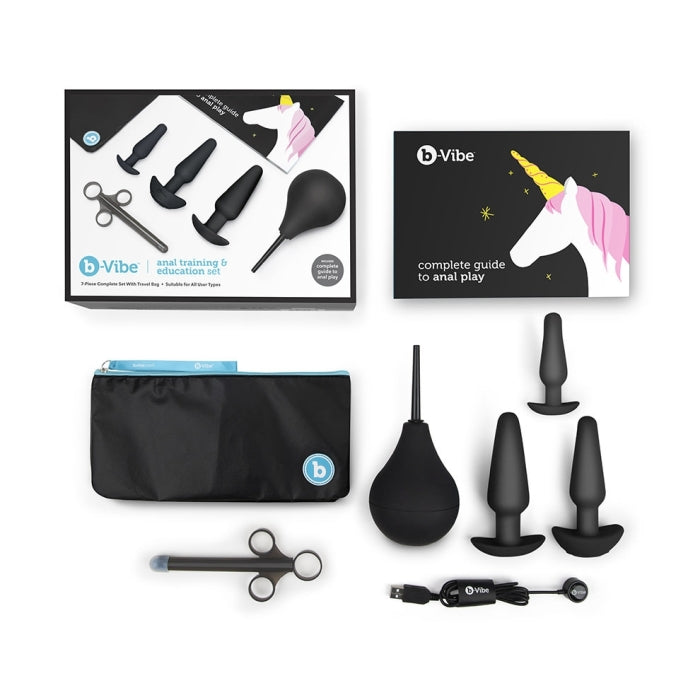 Anal training kit & education set
by B-Vibe
Toys
Say hello to the delights of anal intimacy with this 7-piece set. Slowly train your body for pleasurable anal sex with care.
Key Features
| | |
| --- | --- |
| Perfect for beginners and beyond | 100% splash proof |
| Body-safe products | Rechargeable |
What Is It
Rushing into anal penetration is never a wise choice. That's precisely why our anal training kit is designed to guide you through the essential steps and equip you with everything you need for more enjoyable anal play experiences.


Here's what the 7-piece kit includes and why it's your perfect partner:
Small Silicone Butt Plug - Ideal for beginners and designed to mimic a finger's touch.


Medium Vibrating Butt Plug - Once you become at ease with how the small butt plug feels, you might want to add another sensation to the mix: vibration. Featuring a powerful and rechargeable motor, this plug can help further stimulate your prostate or G-Spot and wlloe surrounding muscles to relax. Bliss.


Large Weighted Butt Plug - Weighing 180g, the largest plug in this anal training kit is a weighted butt plug that's designed to create a sensual feeling of fullness & pressure.


Lubricant Applicator - slick things up! This little gadget helps lubricate those hard to reach places.


Anal Enema - the perfect go-to for a deep clean before embarking on your anal play adventure.


Zipper Travel Bag - Because why wouldn't you take your anal training kit & education set on holiday?


Complete Guide to Anal Play - A comprehensive guide that includes sex educator approved how-to guides and easy step-by-step advice that will help you understand how to prepare your body for anal sex.
Details & Materials
Small silicone butt plug - 98 x 26 x 50 mm
Medium vibrating butt plug - 134 x 32 x 68 mm. Use time: 2 hours.
Large weighted butt plug - 137 x 40 x 71.50 mm. Weight: 180g
Soft, body-safe and hypoallergenic silicone
100% splashproof
Easy to clean