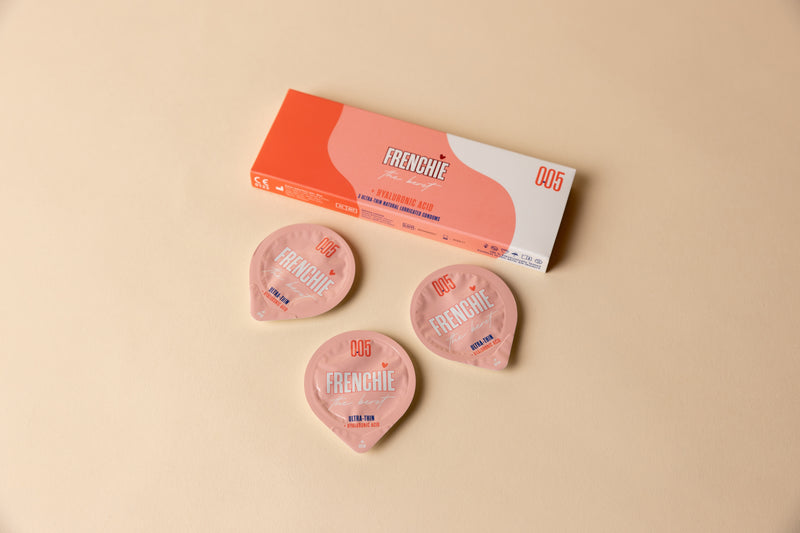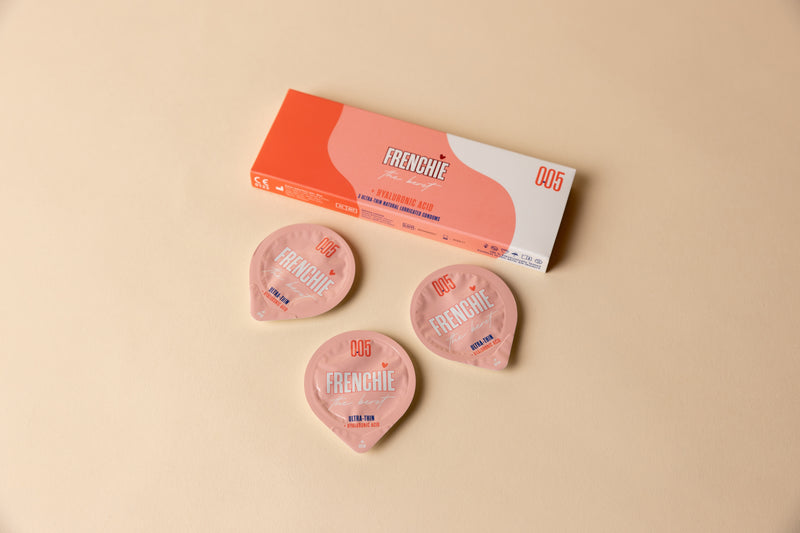 Beret Condom with Hyaluronic Acid 3 pack
by Frenchie
Sextras
Hyaluronic acid is a well-known ingredient in the world of skincare routines. Might we suggest that it could be time to add it to your sex life too?
Key Features
| | |
| --- | --- |
| Couples play | Vegan |
| Fragrance Free | |
What Is It
Our bodies naturally produce hyaluronic acid, making it a safe ingredient that adds an extra layer of moisture and pleasure. It helps keep the moisture going and protects your intimate areas from tears, abrasion, and rashes associated with the unpleasant friction that comes from a lack of lubrication. Who knew!
The Beret Condoms with hyaluronic acid are housed in an easy-open buttercup enclosure, meaning you open them the right way up, every time. Au natural, these condoms are created without any synthetic ingredients: better for you, the planet and your tastebuds. Size doesn't matter, but at 0.05mm, the ultra-thin design of Frenchie Beret Condoms with Hyaluronic Acid let's you get up close and personal, while keeping everyone involved protected. Simple? Safe? Oui Oui!
Details & Materials
3 x Condoms
100% natural rubber latex condom
Electronically triple tested for safety
Unique Buttercup design (never guess which way is up!)
TGA approved and registered
Water-based Hyaluronic Lubricant
0.05mm ultra-thin
Low-odour & fragrance free
Vegan & Gluten Free
au Naturel & Free of Synthetic Ingredients
Made With:
Natural rubber latex, Cornstarch Powder, Hyaluronic Acid Lubricant, Magnesium Carbonate
Made Without:
Parabens, Animal Products, Synthetic Colourants, Synthetic Flavouring, Glycerin, Gluten, Petrochemicals, Fragrance